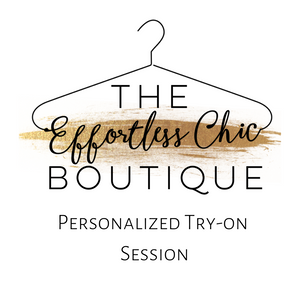 PERSONALIZED TRY-ON SESSION!

You schedule an appointment, tell me your sizes, I'll pull everything I have in your size & have it ready for you to come & try-on! You can bring other items with you to try things on with (examples: shoes, accessories, jeans, skirts, etc.)
Sessions are $20 to reserve your appointment, that $20 will be used toward your purchase.  A 24-hour notice is required to cancel or reschedule appointment.  If you have to cancel or need to reschedule after the 24-hour time period has expired, the $20 credit toward your purchase will no longer apply.